The year has started off on a positive note – On January 6th 9 of the songs I entered into the International Songwriting Competition have been advanced to the second round of judging. I entered 18.
Started working on a new song with Peter Boynton that I wrote for my Gramma called ¨Hands¨.
January 31 – The article that I wrote for Vortex magazine was published. They asked me to cover the Barrie Blues Festival.
Working towards obtaining a real estate license. I´m getting tired of working with hair. I´m getting tired of working on anything but my music actually. I wish I could just focus 100% on that. Never seems to be an opportunity to do that. I feel burnt out. I need to be networking more… going to songwriting workshops and events to meet people… but I don´t have the time I need. I´m also feeling the lack of support.
February 18 – Entered Peace, Love & Harmony in a songwriting competition.
My song called You´ll Be Alright is in the Top 40 on Kangar Radio
March 1 – The coverage of the Barrie Blues Festival is published in Vortex magazine.
March 6 – Finished the vocals on Hands.
April 11 – The song Peace, Love & Harmony won Honourable Mention in the songwriting competition for peacedriven.com
April 14 – Honourable mention in Cooches 9th Amateur Songwriting Competition. Also picked for the Sonicbids ¨Who´s Playing¨ Spotlight.
April 20 – Selected to perform at Celebrate Barrie on June 3rd on the mainstage!
May 15 – Met up with the musicians who will be my backup band for Celebrate Barrie in June to go through the set. Had bad practice at my place tonight.
May 18 – Went to the meeting at City Hall regarding Celebrate Barrie. It was fun meeting everyone who will be performing and talking with some of the artists.
May 30 – Johnson Street Public School is performing my play, ¨The Bully, The Bullied, and the Bystander¨!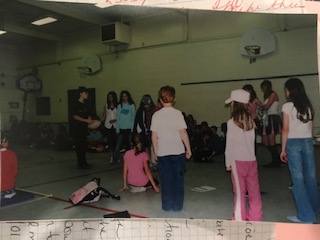 May 30 – Got my real estate license. So now I will be training for that. I can´t stop hairstyling until I build my real estate business. For now, I´ll have to work both jobs. There´s lots of initial training.
June 2 – Had rehearsal at my place to go over the songs for the show tomorrow.
Lots of exciting things are happening! I am feeling momentum building.
June 3 – Called the Drama teacher at the local highschool to talk about perhaps working with me on the play. I´d like to audition some students and maybe perform it for the school. If we could video it I could have that to use to promote it, along with the songs and the script. Did the performance for Celebrate Barrie. It went really well. My Mom and sisters and daughters were all there for support. It was really nice.
June 7 – Really busy with real estate. There´s so much training, open houses, meetings, networking… not making any money but spending a ton on fees, clothes, tech, training, office setup and it goes on and on and on. Working in the salon too to pay for everything as well as household expenses. I´m so tired. I was asked to participate in a fashion show at the Art Centre. It´s to promote indigenous traditional clothing. The women are so beautiful and the clothing is equally stunning. I´m proud to be a part of such an important event. Going to do an outdoor photo shoot at Christian Island on July 16! Robin Munroe is organizing the shoot and the event. I´ve worked with him alot. He´s been extremely helpful and supportive. As the festival director for the Barrie Jazz Festival, he´s also the organizer and director for alot of music events in the area. I enjoy working with him. The fashion show was tonight and it was alot of fun. What a great opportunity to meet some incredible people!
June 22 – I have to do alot of duty shifts at the real estate office. It´s a waste of time because we rarely get any walkins. I use that time to work on my listing and buyer presentations, go through the listings on the market, the solds, what´s selling and what´s not to be able to get a feel for the market. The last couple of weeks have been just so busy with training and seminars, designing my signs, reviewing and understanding all of the documentation and forms needed for sales and listing property. I´ve been doing open houses every weekend and showing property. I´m feeling overwhelmed trying to learn the real estate industry, work with clients, schedule clients for my salon in between working at the office and working with sellers and buyers. My husband isn´t really home alot because of his job and his sports, so I´m taking my daughters to work, taking our pets to the groomers, vet, the kids doctors appointments, getting groceries, making dinners, paying the bills, cleaning, taking the garbage out, and everything else involved with running a household. My music is at the bottom of the list of priorities yet I´m trying so hard to also make it a priority. It´s tough. But, I know that nothing comes easy so it´s just a matter of trying to stay positive and continually doing all I can and seizing every possible opportunity.
July 6 – Asked to cover the Mariposa Music Festival for Vortex Magazine. It will be a huge block of time to prepare and participate but it will be a fantastic opportunity to learn new skills and enjoy the music as well as meet the artists.
July 8 – OK, this is probably the highlight of my entire musical journey!! I interviewed COLIN JAMES at the festival! He was headlining and I promised myself that no matter what happened this weekend, I would get an interview with him! I interviewed so many talented artists including Fiest, Lynn Miles, Tom Wilson, Stephen Fearing, Lennie Gallant… When Colin James finished his set, I saw him walk over to his trailer. I chickened out and was about to leave when I told myself that that was my job. I was to get interviews with the artists. I was confusing my professional self with my personal self, whose always been a big fan. So, I took a deep breath and walked over to his trailer. There were a bunch of people around and I went over to one of the guys and introduced myself as a writer for Vortex magazine and asked if it would be possible to speak with Colin James for a moment. He said he´d talk to him. Not 2 minutes later, I saw him coming towards me with Colin James! I was so nervous at first and really didn´t even know what to ask him. But I somehow managed to push record on my little tape recorder and away I went. He was so pleasant and friendly. It was such a wonderful experience. After about 10 minutes, the guy came over and told me that my time was up and led Colin back to the trailer. I listened to the recording over and over in the car on the 30 minute drive back home. I excitedly ran into the house and told my husband all about the day. I asked him if he wanted to hear the interview. He was a huge fan. He said no, and he went to bed. He wouldn´t go to the festival with my either. I went outside on the deck with a glass of wine and listened to the interview again. I thought about what a wonderful experience the last two days have been. Just wished I had someone to share it with.
Band practice is every Monday night. I feel that it´s really not benefiting me and my professional goals. I´d rather work on my original music. I don´t know how much longer I´m going to do it.
My contact at the school board for the play has been transferred to a different department. I have to reach out to the new person to fill her in with my ideas. I´m disappointed that the personnel has changed. I felt I had a great working relationship with Lorraine. We´ll see what happens.
July 16 – Did the photo shoot at Christian Island! Absolutely an incredible experience! We ran through the forest, dipped our feet in the water and the girls laid on these huge logs with their long hair spilling down to the ground. The clothes were just gorgeous – traditional aboriginal clothing. It was one of the best days! There were 10 of us girls and 2 males. I´ll never forget this day as long as I live.
Ugh… I´m doing too much. Band practice, kids, work, meetings for Vortex mag, golfing for charity, new band members, promoting my CD… my music, entering competitions, taking care of my family and the house. My husbands gone so much there´s just alot to do. I don´t know how much longer I can continue doing this.
July 31 – Performed my original song, ¨Livin´ Dangerously¨ at Gryphon Theatre. My whole family was there to support me. It was a really nice experience.
August 2 – It´s my daughters birthday in a couple of days. Worked all day and then got groceries. I´m going to make 2 strawberry pies for her. I´m going to get some salmon too for her birthday dinner. She likes that. Tomorrow I´ll get her gifts. I was going to perform at a club downtown Friday night, but I turned it down to spend my daughters birthday evening with her 🙂
August 17 – My husband is leaving to go hunting for two weeks. That´s going to make things tough here. I´ve got the kids, their jobs, my jobs, meeting musicians for upcoming performances, open houses, showings, my nieces graduation is on the 20th – I have to get a card and a gift, we are going to go and it´s about an hour away… I´m fully booked in my salon Monday, open house Tuesday then duty from 3 – 6, showings Wednesday morning and salon clients in the afternoon, Thursday I have an open house then salon clients, the grad, band practice, I´m working on an article for Vortex… and I have a real estate course on the 25th and 26th. And I have to participate in a charity golf tournament for work – and I don´t even like golfing. It´s just that it´s for the Womens Shelter so I feel it´s important… Ugh, I feel like a single mom with 5 jobs trying to pursue a music career. Who am I kidding? I was asked to perform at the Dragon Boat Races. That´s not going to happen.
September – Well, my salon is crazy busy, my real estate clientele is really picking up and things are still busy at home, as usual. My friend is leaving for Italy to see her family and I hope to be able to spend some time with her before she leaves. I have to go to a conference in British Columbia. Well, I don´t HAVE to, but it´s important to network, so I´m going. And it´s so expensive – I´d rather invest those funds into my music 🙁 I don´t think I will be able to go any performing or writing or recording this month.
September 26 – My birthday. My husband took me out for dinner. Things don´t feel right. It´s like we are both going in opposite directions. He wants to move out to the country. It´s not the time. I have my business in my home, I´m trying to build my real estate business, the girls have their friends and jobs, I need to be in town for my music and art. Don´t get me wrong, I love the country. It´s my dream to one day live in the middle of no where with horses… see nothing but nature. But nows not the time.
December 3 – Went to look at homes in the country with my husband.
December 12 – My husband told me he wasn´t happy. He wants to end our marriage. Again.