Although I so much want to focus on music entirely I can´t. I have to work. As you know, I´m working full time in my salon but trying to spend my spare time on my music. It´s tough because I have the kids too, the house, the cleaning, shopping, accounting… it´s draining. It would be so different if I was single and had no responsibilities. Or even in my situation but being able to have my music as work. It would be so amazing if Dad was still here to encourage me and be by my side during this journey. But, this is my life. And I know that nothing happens without purpose. God knows what´s best for me. So I just have to trust Him and believe that everything happens for a reason and everything has its time. The most important thing is to continue to take every opportunity and keep trying. You can´t connect the dots looking forward, but you can connect them looking back. Lots of times I think, ¨This never would have happened if I didn´t go through that¨… you don´t know why things happen at the time, but you understand later. So, I´m going to do everything in my power to be positive, have faith, and still try to achieve my goals.
January – Formed another band with some friends. Entered the Battle of the Bands at the MacLarens Art Centre in Barrie. Contacted Matt DeMatteo again. Sent him 3 songs. Maybe we can remix some of my songs.
Entered some song competitions and songwriting competitions. Still going to the open jams.
Feb 15 – One of my clients is a high school teacher who teaches tech. Her class is going to do a music video of my song Livin´ Dangerously.
March 1 – Started working on the music video with the students. What a blast!
March 2 – Rehearsal for Battle of the Bands.
March 3 – Arrived at MacLarens at 2 pm to get ready. Did the soundcheck at 4:30 and we performed at 8:15. It went really well. We were interviewed and an article about us was in the newspaper. People came and told me they really related to my songs and asked for my autograph 🙂
March 11 – Performed at a private event. It was really fun.
May 1 – Went to the hairshow in Toronto with a friend. It was huge. It was nice to get away and we had a really good time.
May 4 – Took my daughter to her riding lesson. I started taking lessons too and I just love it! It´s nice to get out in the fresh air and I love being around horses. It reminds me when we had our horse in Dunchurch as a child. And in Kirkland Lake. I used to love riding him. And I spent hours grooming him and cleaning the barn… I think it was where I went to feel a sense of peace. It was therapeutic for me.
May 14 – Went to Jim Blackleys to ask him for a reference letter for a grant I´m applying for. He agreed to provide me with a letter and said he was going to call Gavin Brown (Juno award winning producer).
May 19 – Jim Blackley called. Told me he talked to Gavin about me for quite a while and for me to call him to set up a meeting. So I called. He said for me to pick 5 of my best songs and we made an appointment to meet June 1st.
June 1 – Met Gavin. He listened to one of my songs. He said he didn´t know what to say. The bands that he works with write their own material. I don´t know what the point of the meeting was then. Said he would give my songs to his publisher and maybe he knows someone into the blues.
I planned to say so much – ended up saying nothing.
I´m pretty discouraged. All these leads and hopes and all of these ´this is it´ opportunities never amount to anything. I don´t know… maybe I should just forget about it.
Summerfest was cancelled. Disappointing.
July 2 – Auditioned for a movie called Rain from Stars in Huntsville. an old man who recounts a terrifying tale to his friends that happened to him back in the 1940's during the trial of one of the most brutal murders of the era. I thought I did really well. I guess we´ll see what the Universe has to say.
August 25 – Nothings coming together. I´ve done so much… I just have to let God take care of me. I got a royalty check from Socan for my song that got radio play from the competition I won. $282.83. Imagine if I had a hit song.
Talked to a friend about writing a script about bullying. She has contacts to get it approved by the school board, so we´ll see what happens with that. I would write all the music and lyrics for the play.
September 23 – I was nominated in the Best Acoustic Female category in the Toronto Independent Music Awards!
October 5 – Went to the Awards show at The Phoenix Theatre. Didn´t win but what a fun experience!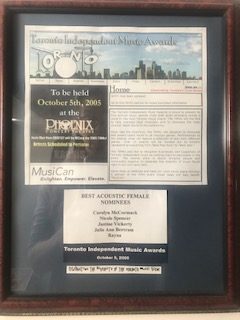 November 4 -Met someone who knew Jim Cuddy. Gave him my CD to give to him.
November 5 – Martin called me. He saw Jim, but he forgot my CD 🙁
November 12 – Met the editor and staff for an independent music magazine, Vortex. They are interested in doing a profile on me as well as having me write an article for their magazine. That would be super cool.
Had a meeting with some students at a local public school to go through the bully play for a performance. Called Lorraine Gregory at Simcoe Board of Education about the Bully Project.
November 12 – Received my second Socan cheque – $446.97. That makes me feel positive and hopeful 🙂 It´s something good.
November 18 – Had a meeting at the school board about my play.
November 19 – Entered the Canadian Radio Start National Songwriting Competition.
November 19 – Entered the International Songwriting Competition.
November 21 – Met Lorraine at the Education Centre in Midhurst about the play. She asked me to send the script registered mail to her.
December 7 – Interviewed a local band Karmanno for Vortex magazine.
Received a call from Lorraine at the school board. They fully support the play! She loves it and wants to promote it on the Simcoe County and District School Board website!
Well, I´ve worked so hard to get my music out there. And I recorded some new songs. Things are starting to happen I feel, little by little. I went to a physic. She said something really big was going to happen in October/November. Maybe she meant next October/November. Still with the band, still working in my salon full time, taking the kids to lessons, work, school, taking care of all of the household responsibilities. I hope something nice happens for me soon.