Another year… Goals written in diary:
To have other artists record my songs.
To be a special guest with other artists and sing one of my songs with their band backing me.
To be a special guest for a Colin James show and have him and him band back me.
Hired my friend to build me a professional singer/songwriter website with my music and achievements so far.
January 2 – Mailed my CD to Dave Platel, Celine Dions manager. I had a personal referral.
January 30 – Went to the Colin James concert in Parry Sound. Gave my CD pkg to one of the guys in his crew (Tim). He said he would make sure that he got it. Was assured he would get it because he´s one of Colins guys.
Feb 3 – Got a call from Reg Sprung (my manager)s son. Reg passed away. Called Jim Blackley. Hasn´t heard anything yet. Will call when he does.
Feb 4 – Got a call from Mike White at the New VR. He´s doing a commercial and the client saw my audition tape for another commercial I auditioned for and picked me on the spot. Positive news!
Feb 10 – Did the Ford commercial shoot. Fantastic!
Feb 16 – Commercial started airing on the New VR.
Feb 20 – Jane from the City of Barrie called to invite me to perform at the 150th Birthday Celebration downtown. I sent my letter of interest and CD. They will decide end of March.
Feb 21 – Performed at Accente Piano Bar in Barrie with Peter Boynton. Met Ted, who owns Music Pro in the south end of Barrie. He bought one of my CD´s and would like to promote and sell them in his store.
Feb 24 – Received letter from Dave Platel. He said my songs needed to be more fully professionally produced but he said I have potential as a songwriter. He encouraged me to keep working towards my goals.
March 9 – Maria Burns called. She was on a show called ¨Daytime¨on Rogers cable promoting her store. She said she mentioned my CD on the show and then she said she talked about me to the producer. I called him and we have tentatively booked April 4th to tape a live performance of four of my songs in the studio and then do an interview. I´ll see if Pete wants to accompany me.
March 28 – Contacted Brent Lowe. He was referred to me by Maria. Spoke for an hour on the phone. He´s been in the industry for 10 years. Started young. 7 years as artist management and then managed a record label. For four years he´s focused on TV and media but still has contacts. Told me to send my CD to Glen Coulson. He has his own production company and is an established songwriter. He´s involved with Promanade in Barrie. Will send CD today.
March 29 – Just finished praying to God telling him I was ready and I was asking for help with my music, and my business phone rang. It was Susan from The Barrie Examiner and she wants to do an article on me and my music. She was referred to me by Maria. Thanks Maria! Thank you Father!
April 1 – Did the interview with Susan. Through her, I got a call from Peter Swanik (Peters Place). He´s a promoter. I´m sending him my CD. Should be out by the end of April.
April 2 – Called Robin Munroe who is the Executive Director for the Jazz and Blues Festival. Left him a message. Got his name and number from Mike White and the New VR.
April 3 – Grant Spence ( a friends brother in law) called. He knows a guy that used to manage The Nylons and Harry Belafonte. He´ll talk to him about me and call me Monday night.
April 4 – Brent emailed me. Wants to get together with me and Glenn. Glenn is one of the singers in the band VIP that Brent managed.
April 6 – Called Grant. He said a songwriter named Adam Mitchell that he knows wrote for and also lived with Linda Ronstadt. Wrote for Meryl Haggard as well. He´s going to email him. He lives in Nashville. He knows someone else named Dwayne Thompson. I told him I have CS´s if he needs them.
April 17 – Met up with Brent and Glenn. Talked but nothing transpired. The article appeared in The Barrie Examiner.
April 19 – Mailed 2 CD´s for review to the Canadian Blues Reviews.
April 20 – Jane from the City of Barrie called. She had a surplus of artists for R&B. She passed on me performing.
April 28 – I won the MOOSEFM Songwriting Contest!!! I receive free distribution on all Moose FM radio stations for one year! What a great accomplishment! Inspires and encourages me to move forward!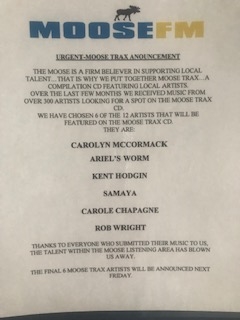 May 4 – Mailed my nomination package for the Northern Ontario Music and Film Awards. My sister read about it in the Sudbury Star. Will be contacted or emailed during the month of July. Winners will be announced in Sudbury Sept 18th.
May 6 – Booked for the entertainment for the Lung Association and Talk is Free Theatre Fundraiser. I feel I am beginning to create a buzz and I am gaining attention for my music.
May 7 – Did Daytime with Tara Dawn and Dean this morning. What a fabulous experience!
May 10 – Sent my CD off to Corus Max Trax in Alberta for digital on satellite.
May 20 – Brian Blackley asked me to be the lead singer for his blues band.
May 23 – Went to band practice. Had alot of fun!
June 15 – Sent 4 of my songs to the Nashville Song Search.
July 6 – Asked to do another commercial for the New VR for Georgian Pontiac.
July 17 – Finished 24 commercials in 10 hours! Turned out excellent!
July 20 – A coworker at the salon had a private party. Colin James was the entertainment. Gerry Craddock was the booking agent. I called him. Sent him to my website. We are meeting Friday night at Fitzys in Barrie.
July 29 – Met Gerry. He´s interested in managing me.
August 17 – Entered Little One and Livin´ Dangerously! in the ¨Song of the Year¨ contest.
August 18 – Met the editor of ¨Vortex´, an independent music magazine. Offered me a position as a writer to spotlight up and coming artists.
Aug 27 – Quit band. Not fulfilling my personal professional goals.
A friend told me there was going to be a show in Barrie and High Holy Days manager Dan Archand was going to be there as well as Jake Gold. I went. I met the both and gave them both my CD.
August 28 – Performed at the Lung Association and Talk is Free Theatre Fundraiser. People were dancing to my songs!! What an incredible experience!!
September was a month of making connections… trying. A friend introduced me to Jamie Warrens sister… a friend at work spoke to his brother in law who is a producer at CityTV about me…sent a package to Anya Wilson, top publicist in Canada…someone wants to produce a video for Livin´ Dangerously!…sent music to ALLRS Music Publishing… they passed on my music.
Well, it was a busy month. Some highs, some lows… but I think I´ve made some great accomplishments and maybe next month will bring more good news and help me achieve my musical goals. I think it would be easier if I had a manager or something… but I´ll see what the Universe has in store…